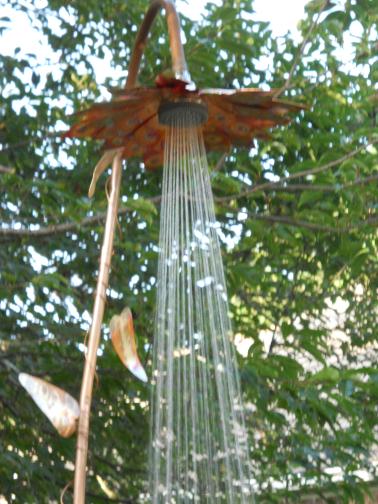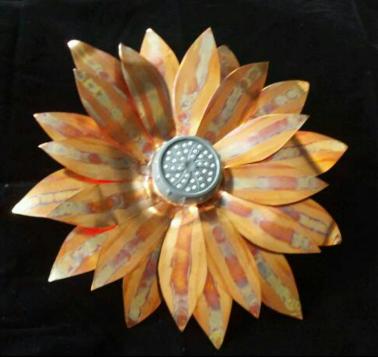 Zwinkler showers are made from copper and brass, the finest materials for a lifetime of indoor and outdoor use. Lightly torched with highlights of raspberry and royal blue colors, they can be used in the bathroom, backyard, garden, by the pool, hot tub, lake, dock, beach, river or just to adorn your RV. Just insert spike into the ground, attach hose and enjoy.
*Can be used freestanding or wall mounted
*Can be permanently connected to hot and cold water
*Showers are 7 feet tall and come apart for easy shipping
*Winter Care: If you live in a cold climate, please bring your ZWINKLER in before the first frost. Water in copper pipes left outside will freeze and then pipes burst. Put your ZWINKLER in the basement or garage for the winter storage. It does not have to be taken apart. In early spring, after all signs of freezing have past, your ZWINKLER is ready to go back in the garden
Sunflower Shower $300 includes shipping

FOR PERMANET INSTALLATION, ZWINKLER TOP SET INCLUDES:
*Copper Curved Pipe Approximately 3.5 feet high

*Copper Flower Shower Head
*Copper Vine with Leaves
$175 includes shipping
ALL READY OWN A SHOWER AND JUST WANT OUR HEAD?
Sunflower Head $65 includes shipping
Prices Subject to Change due to the rising cost of copper