FLOWER SHOWERS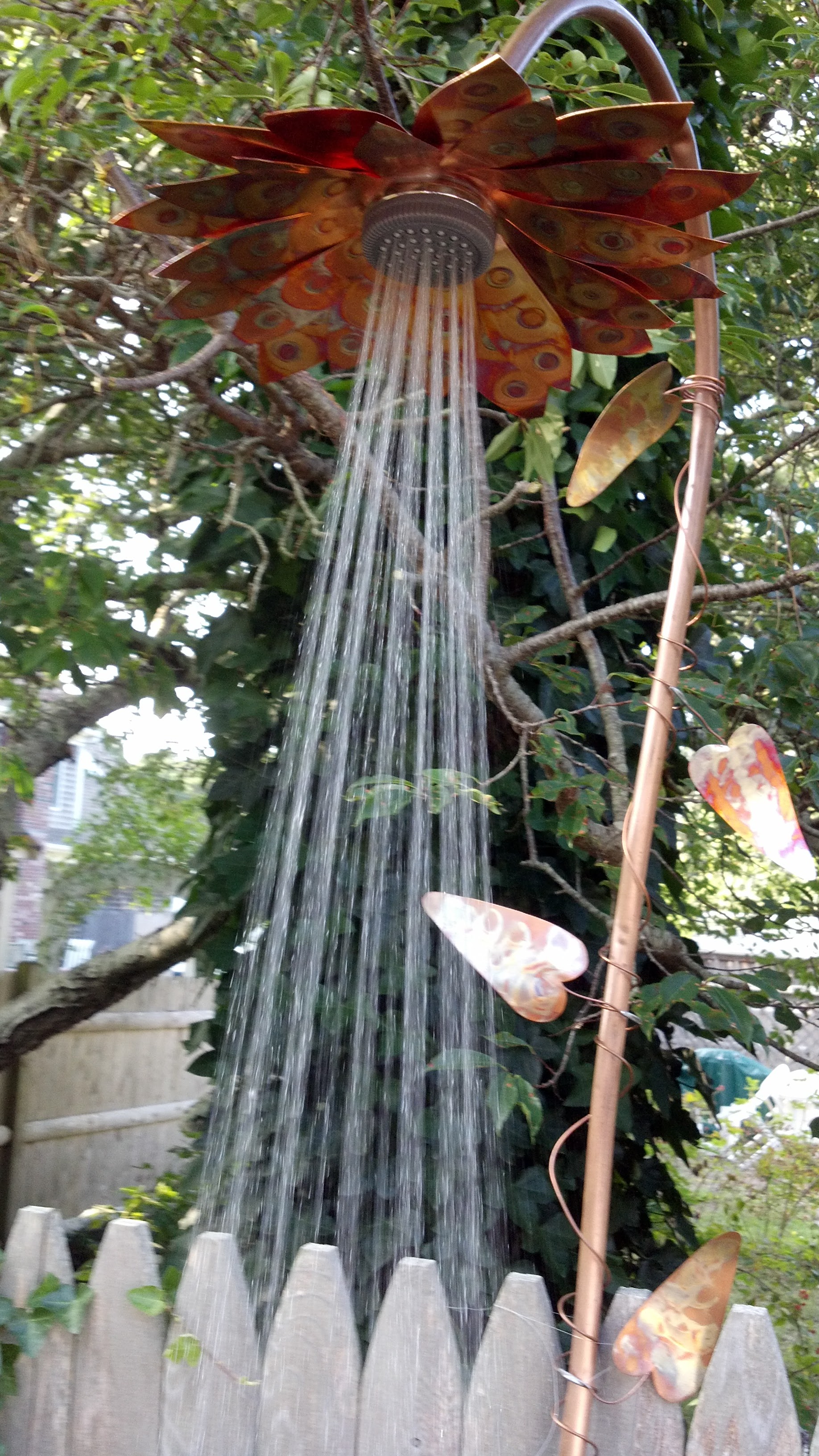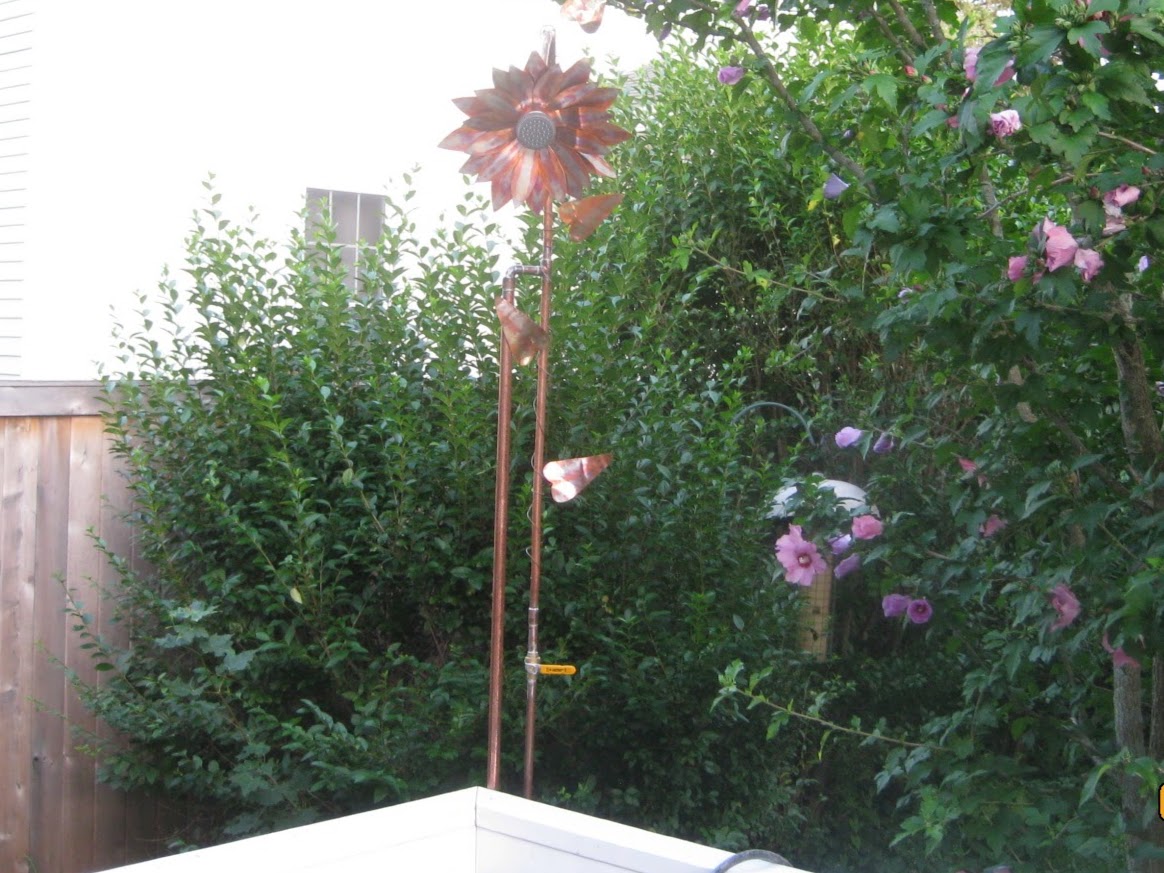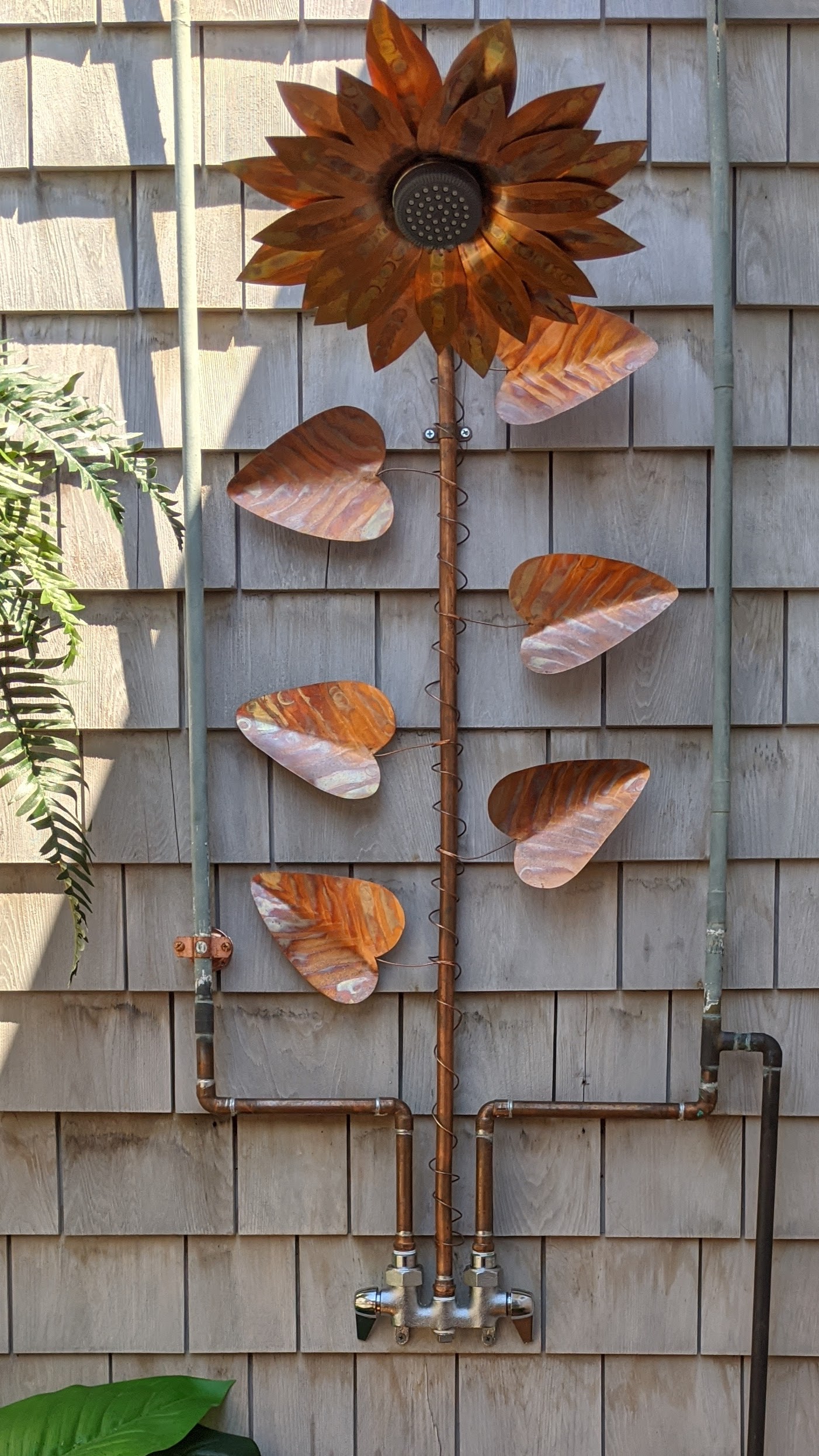 ZWINKER outdoor showers are made from copper and brass, the finest materials for a lifetime of outdoor and indoor use.
ZWINKLER showers can be used in the bathroom, backyard, garden, by the pool, hot tub, lake, dock, deck, beach, river or just to adorn your RV.
Unique outdoor showers increase the value of your home, its like adding an extra bathroom; great for guests or adding something special to your daily routine.
Having an outdoor shower will make you feel like you are staying at a luxury resort every day. It's a great place to cool off from a hot day or the scorching sun.
ZWINKLER outdoor showers will keep your house cleaner and will protect your floors. Use the shower to clean off dirt and mud from messy children and pets.
Each shower head and leaf vine is painted with fire. It is highlighted with raspberry and royal blue colors making each piece unique and very beautiful.
The ZWINKLER outdoor shower has an organic, living finish. This means it is uncoated and will oxidize acquiring a unique patina over time. The finish will change and transform through exposure to the environment. A living finish is often a much sought after look when buying copper. As the copper is allowed to age gracefully in its natural state, it will add more character and uniqueness to your custom piece.
If you wish to keep your copper bright and shiny, you can spray with a clear sealant for metal. Make sure to follow the directions. This will delay but not stop the patina as the living finish phenomenon will still continue.
Winter care: If you live in a cold climate, please bring your ZWINKLER outdoor shower in before the first frost. Water in copper pipes left outside will freeze, the pipes will burst. Store your ZWINKLER outdoor shower in the basement or garage for the winter. It does not have to be taken apart. In early spring, after all signs of freezing have passed, your ZWINKLER outdoor shower is ready to enjoy again.
ZWINKER FREESTANDING OUTDOOR SHOWER $400 including shipping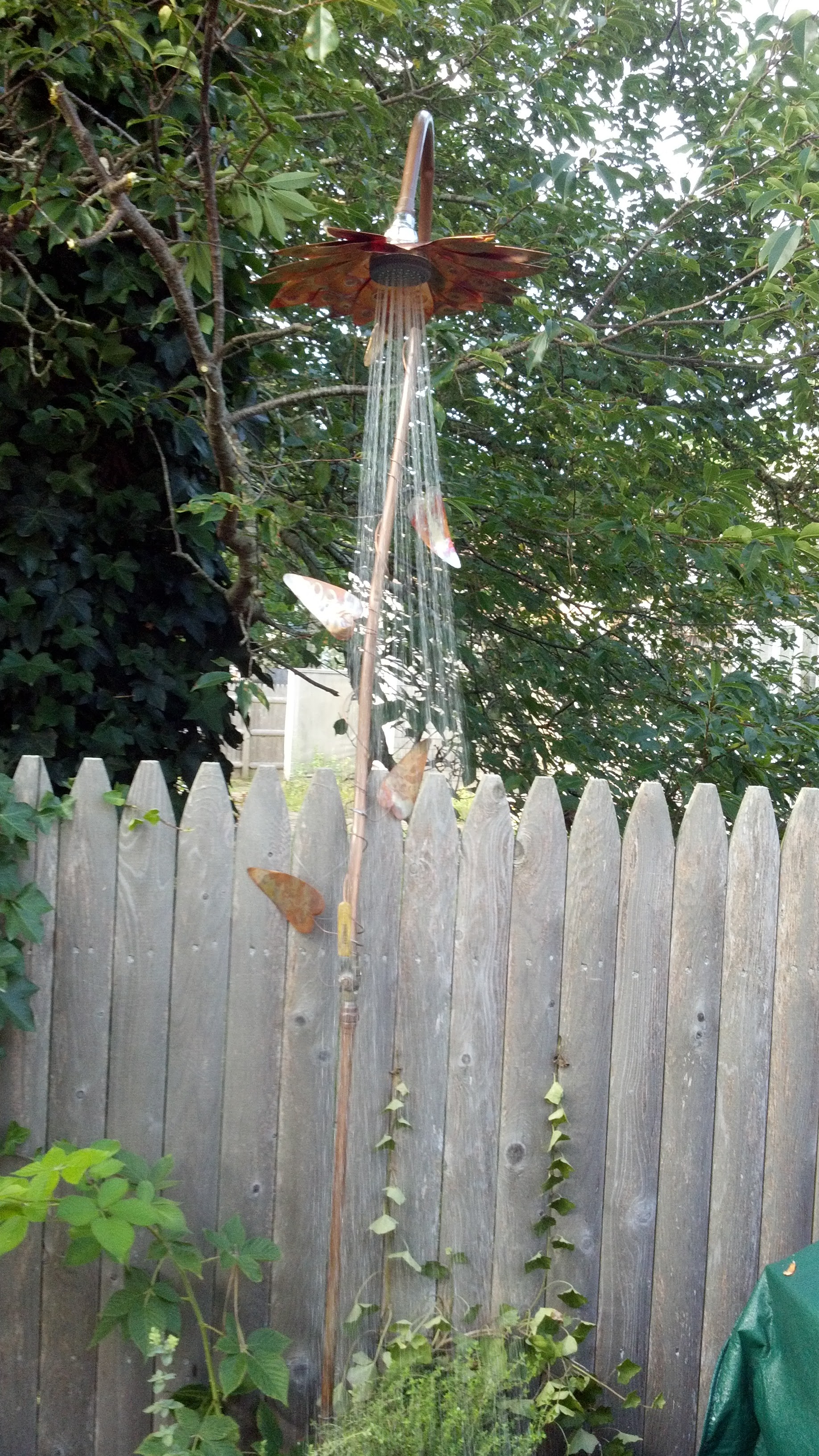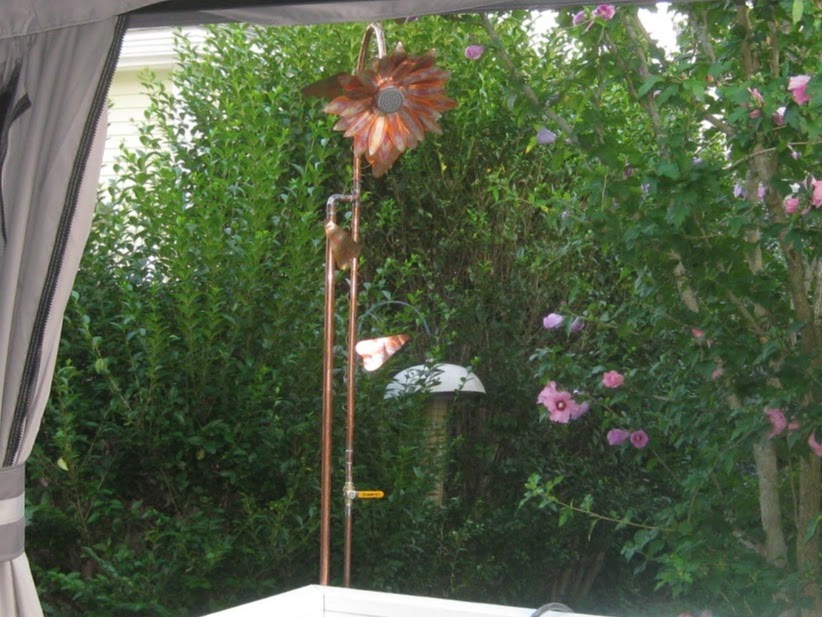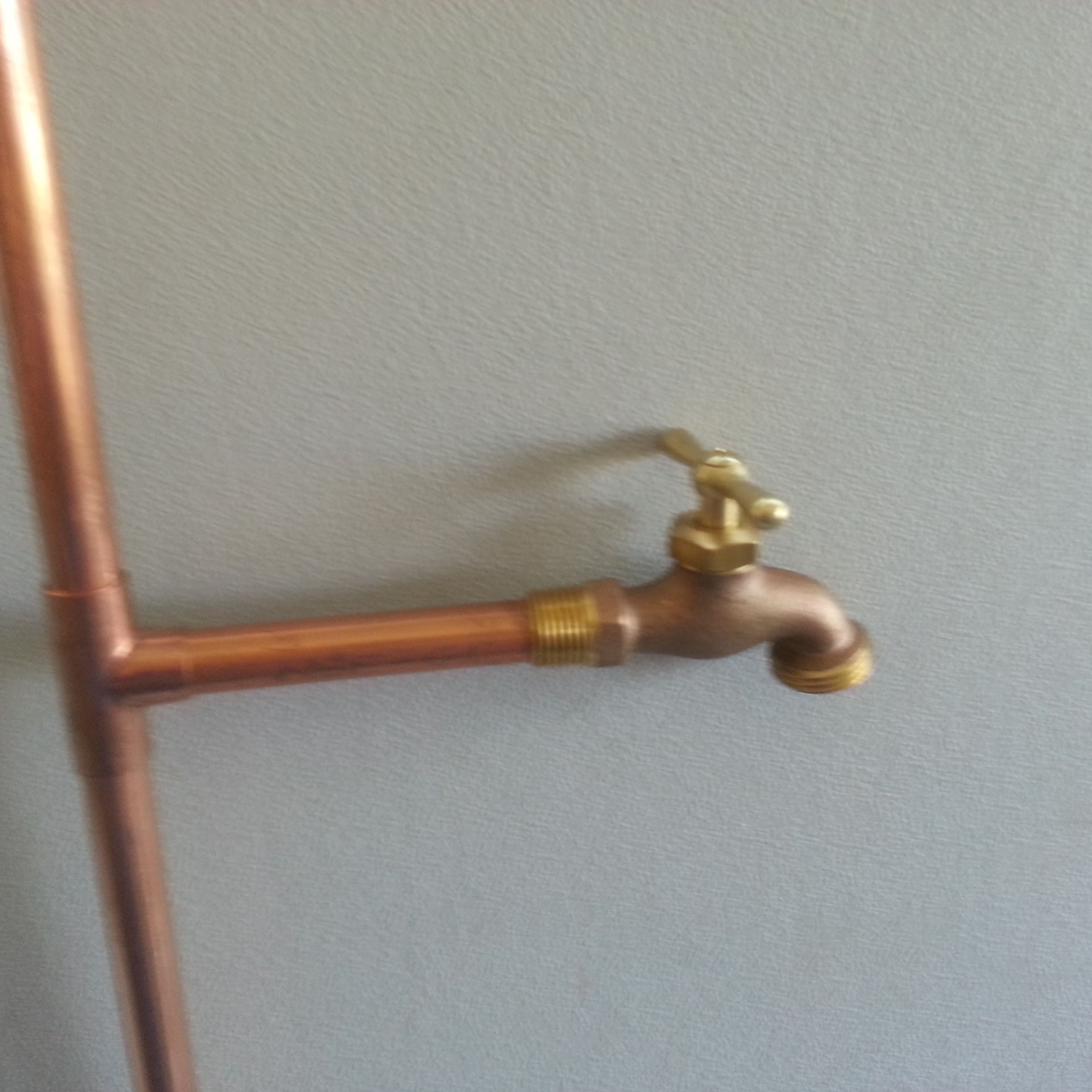 Does not need permanent water connection, just add a garden hose.
Can be inserted in ground
Free standing by inserting spike into a container filled with quick pour cement and can be put on any surface like a pool deck
Can be permanently installed or wall mounted
Can be used as a fountain or water feature
Package includes 7 foot high arching copper pipe, on/off water value, sunflower copper shower head, copper vine with copper leaves, brass foot shower spigot and spike to insert in ground.
No plumber needed, just screw the top copper pipe to the bottom pipe, screw on the bottom spike, slide on leaves, attach the sunflower head, you are ready to go.
ZWINKLER freestanding outdoor shower can go anywhere. By simply attaching the garden hose you can put it by the back door, the garage, in the garden, by a tree, on the deck or dock, bringing you many many years of enjoyment.
ZWINKLER PERMANENT INSTALLATION OUTDOOR SHOWER $275 includes shipping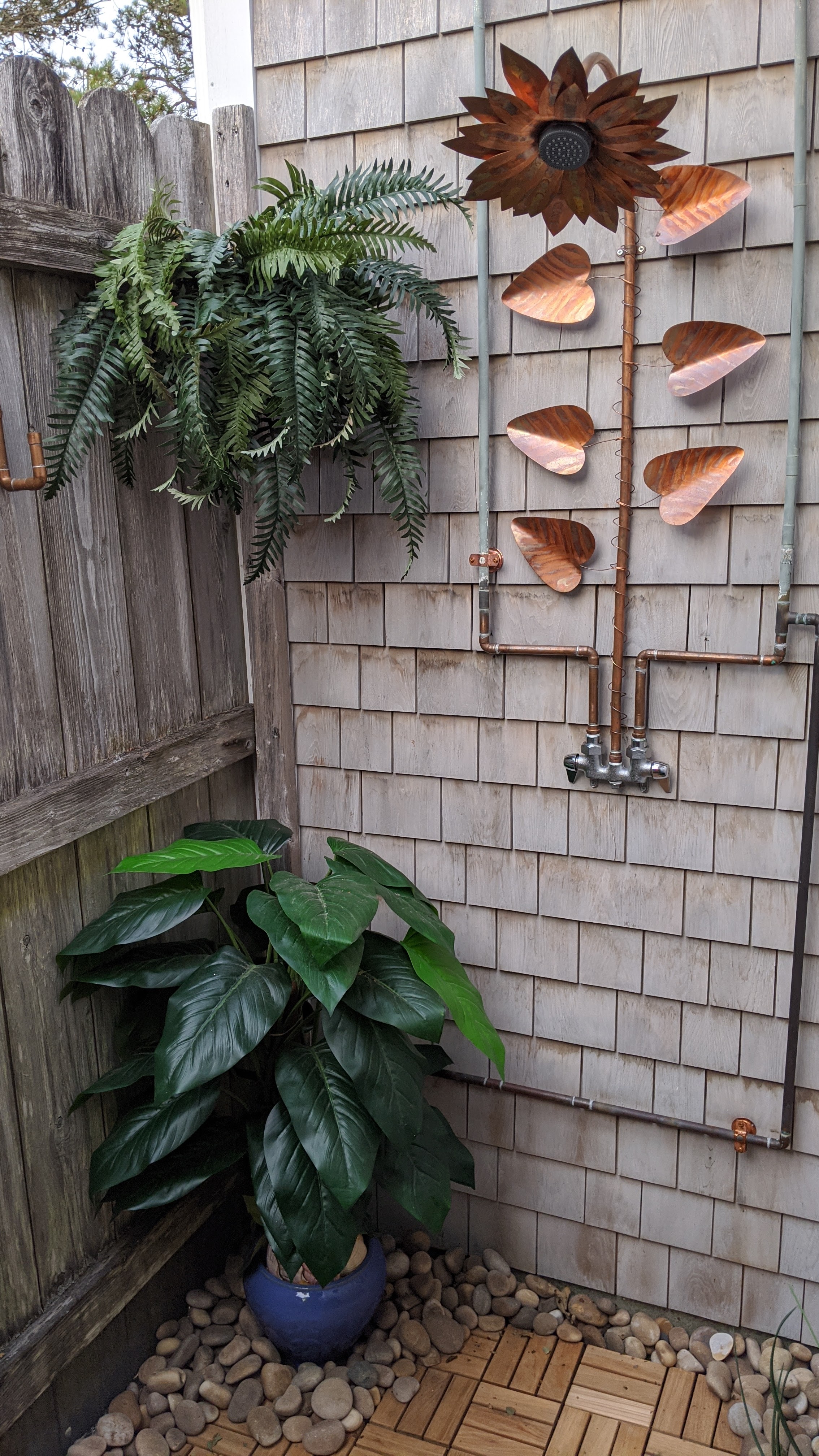 Package includes 3 1/2 foot high arching copper pipe (arched end has 1/2 thread for shower head), sunflower copper shower head and copper vine with copper leaves.
ZWINKLER COPPER SUNFLOWER SHOWER HEAD $125 includes shipping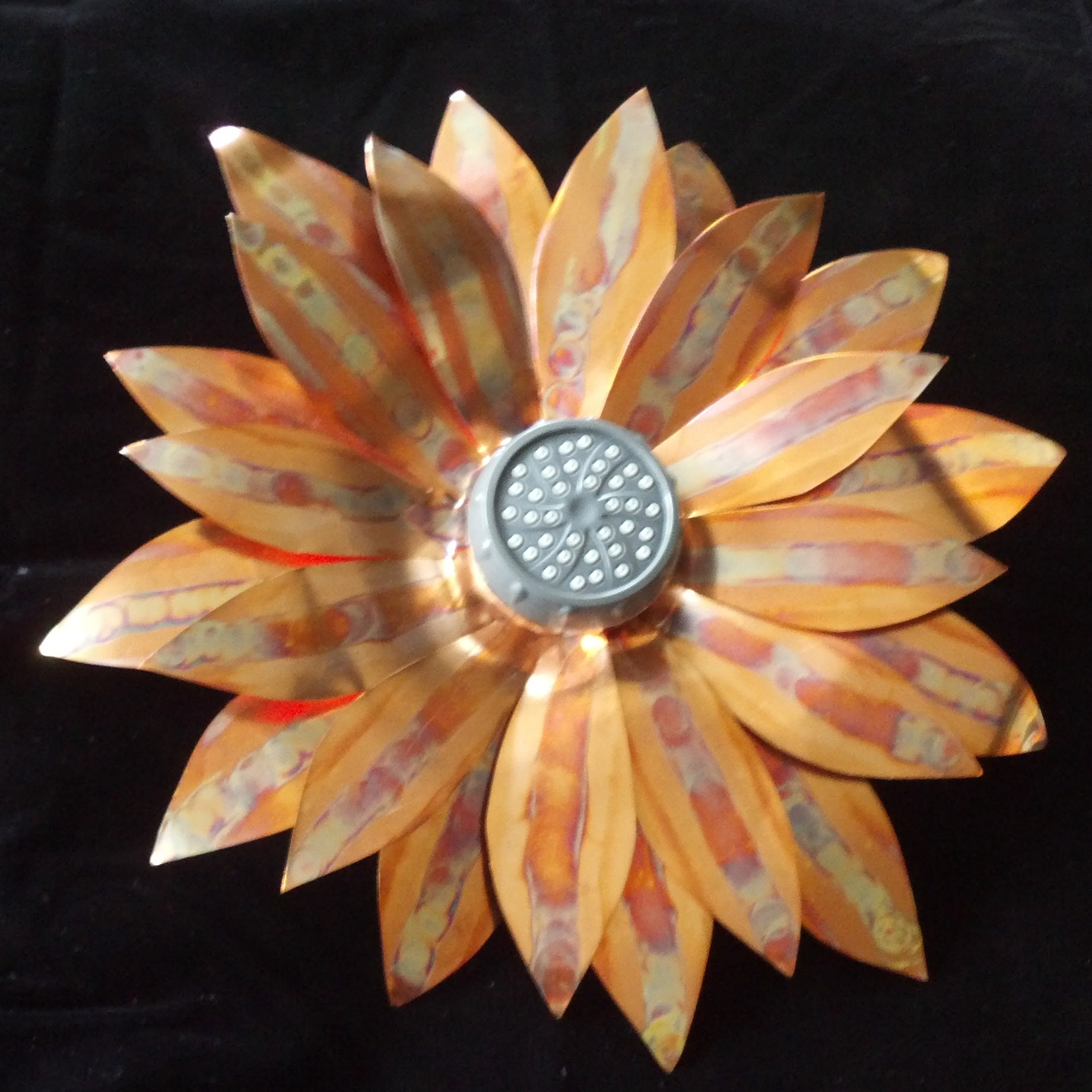 A fabulous addition to any bathroom, inside or out.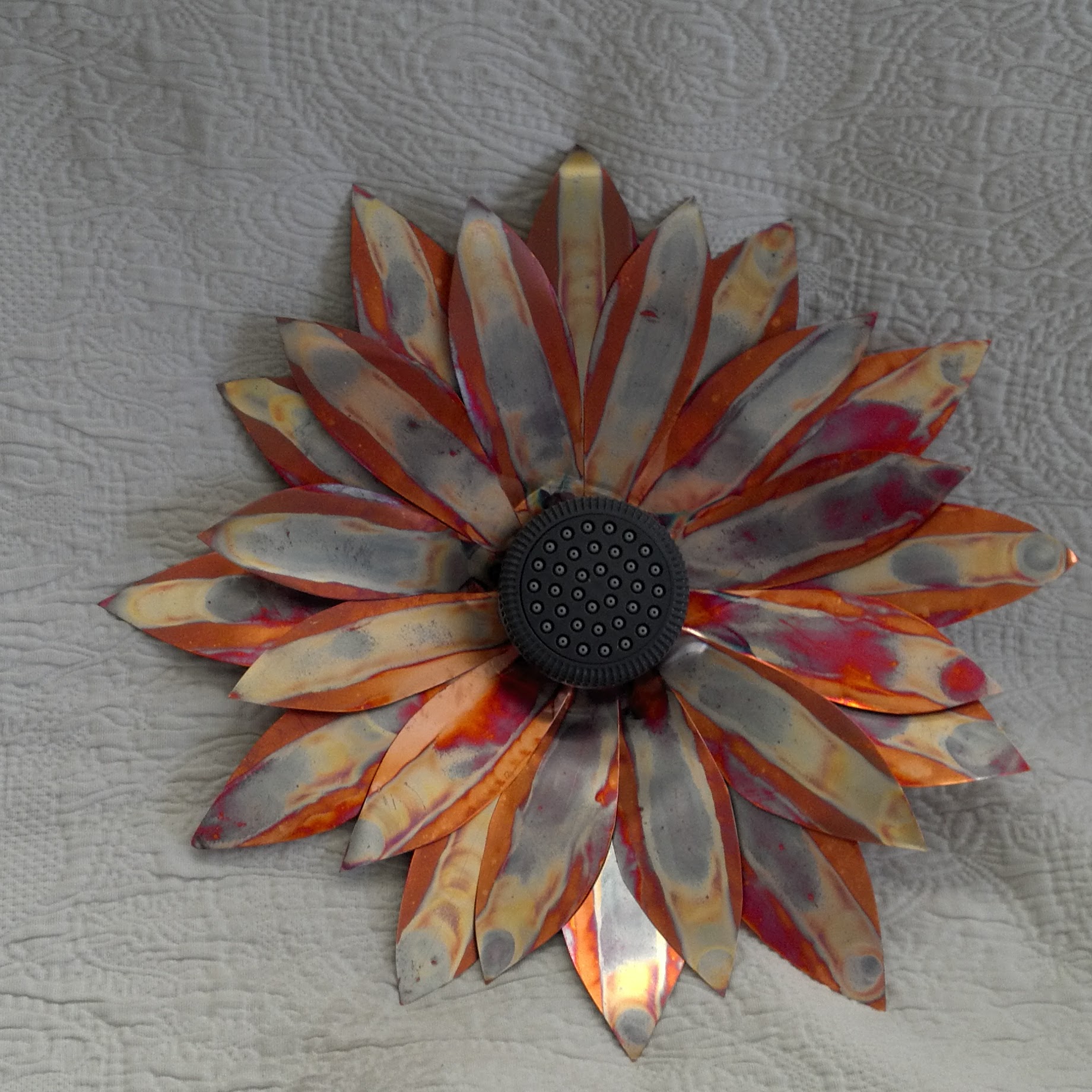 Each one is a work of art, no two are alike, hand painted with fire.
Copper sunflower heads measure approximately 12 inches in diameter.
Prices subject to change due to the rising cost of copper.